School Tour
Two of our pupils are delighted to give you a 'virtual tour' around our school.
Our Library
Our library is at the heart of our school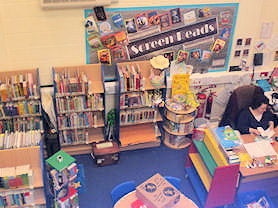 Our library, at the heart of our school
It is a vibrant, welcoming and inspiring area for class visits, reading, homework, book fairs, storytelling, and library clubs.
The library has been designed to reflect Birmingham Public Libraries, so that our pupils can walk into their local library and use it with comfort and ease, promoting lifelong use of libraries and reading for pleasure as well as education.
Our aim is to provide the best study support possible whilst encouraging a love of reading in everyday life.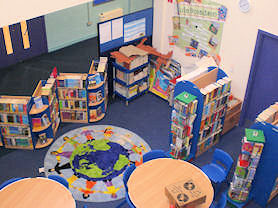 A wide range of books and other resources
We have a large (and growing) collection of quality fiction and non-fiction books, large format books, picture books, dual-language picture books, magazines and newspapers, audio books, two Kindles (for use in class and the library), and a 'Storysack' collection for school and home use with KS1 pupils.
The full-time Librarian, two part-time Library Assistants and pupil Librarians ensure the library is open throughout the school day and after school on Wednesdays and Thursdays.
Pupils can borrow up to two items (fiction and/or non-fiction) for one week when they visit the library with their class each week (this does not include Reading Scheme books or after school loans).
KS1 pupils visit throughout the week for story sessions as well as borrowing books. The pupil librarians like to help the KS1 pupils to choose books and regularly read stories!
Our pupil Librarians are very active fundraisers, we hold regular sales and raffles to raise funds for the library activities. They also run our hugely popular 'Book Club', distributing Scholastic leaflets and dealing with book orders each term (commissions are used to buy new books and prizes for the Library). They also run Book fairs as part of the Scholastic Business School Scheme.