Our Pupils
The children at Blakesley can get involved with various 'councils' and other groups to encourage them to get involved with non-class based school activities and to get used to taking on additional responsibilities.
Head Girls and Boys
Our Head Girls and Boys have many important responsibilities and set a great example to all of our pupils.
School Council
The School Council at Blakesley Hall Primary School have lots of jobs in school such as:
Tuck-shop duty
Organising events such as Comic Relief
Monitoring dinner times and break times rules in the playground
Organising Fun Day activities.
The School Council are lead by Year 6 representatives, who are chosen by their peers. They then interview and select pupils from other year groups to sit on the council. They do Comic Relief and Christmas assemblies and take the lead on improvements in response to children who are unhappy with aspects of school life. The job of a School council only lasts for one year. There might be an opportunity for YOUR child to become a School Council Representative.
Learning Ambassadors
In school we have a team of 41 children who are Learning Ambassadors. They have a number of important duties in school like providing feedback to teachers and leaders about lessons and talking with visitors about their learning.
This is what some of our Learning Ambassadors say about school:
"The school is really positive about things. We love that the teachers are fair, funny, kind and positive. We always get to join in during lessons, learn new things often and recap our learning so that we can remember it. This also helps us to correct any mistakes we might have made. We also love that we get to meet new friends from different cultures which is great too." - Pupil, Year 4
"Teachers help us to persevere with our learning, even when it is difficult. We are always encouraged to pursue our dreams and we get help from lots of different people in school. We love that there is always someone who is there for us. In class, the knowledge we learn, across lots of different subjects, helps us to grow. This, we think, is the key to success. We've loved learning about our rights and how to respect the rights of others." - Pupil, Year 5
House Captains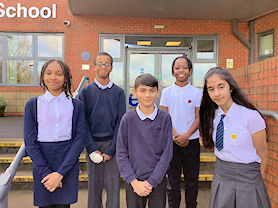 The House Captains and Vice-Captains help organize house events. These include sports day, fund raising relay and of course the house points for the house trophy.
These children lead their school houses and represent them in assemblies and sporting events.
Prefects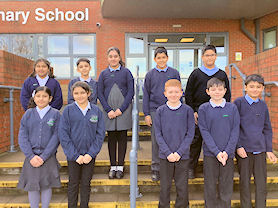 Our school prefects are always here to help. They can point you in the right direction around the school, support you if you're struggling and are always on hand at lunchtime to help on the playground, or in the hall.