Introduction to the Curriculum
Our curriculum is designed to be exciting, engaging and appropriate to the children at Blakesley Hall Primary School. It covers the requirements of the National Curriculum including English, Maths, Science, Design and Technology, History, Geography, Art and Design, Music, Physical Education, Computing and Modern Foreign Languages. We have a Personal, Social and Health Education curriculum with the aim of keeping children safe, secure and successful.
It is built on four intentions:
The development of learning (our acquisition of knowledge and skills)
The development of behaviours and habits to become effective learners (how we learn)
The development of character (who we are)
The development of community (our place in the wider world)
Our curriculum intentions, how it is implemented and the impact it has can be found here:
In addition, each curriculum leader has written their own intent which can be viewed on each individual subject page.
The Blakesley Triangle
At the core of our development of knowledge is our 'Blakesley Triangle', aimed at ensuring that children are able to store knowledge in their long term memory, ready for recall and application.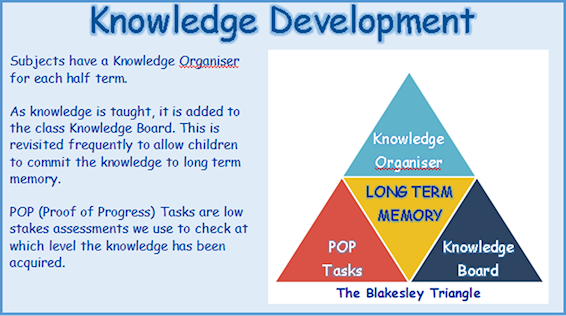 Find out more:
Key Skills
To ensure progression our curriculum is underpinned by key skills. These build on one another as our children move through the school.
Visits/Visitors/Events
An important aspect of our curriculum delivery is to have a 'memorable experience', a visit or visitor, or a special experience day on which can 'hook' the children into their learning.
You can also read various policies that relate to our curriculum on our Policies page.
Celebrating Cultural Capital
Each year group creates a 'Learning Journey' over the course of the year. These celebrate all the wonderful and wide ranging learning opportunities that take place in school. They are a real celebration of the cultural capital that is developed over the year. We keep them right at the front of the school for everyone to see, right by our photo display that also celebrates the broad learning opportunities we provide.