Ofsted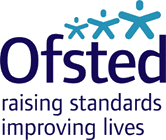 Our school was inspected by Ofsted in July 2018 and the full report can be below.
Once again we were judged to be a good school.
Here are some quotes from the report:
Pupils are polite and well mannered. They generally behave well in lessons, which helps learning to proceed smoothly.
Senior leaders have a good understanding of the strengths and weaknesses in the school.
The curriculum offers a wealth of opportunity for pupils to learn about exciting topics, other cultures and a wide range of subjects.
Governors are relentless in their approach to improving the school.
The arrangements for safeguarding are effective.
The early years is led effectively. Children are making strong progress in their learning, so most are well prepared to join Year 1.
The school uses the physical education (PE) and sports premium effectively to improve pupils' life skills. A great deal of work is being done successfully in the school to promote healthy living.
The full report can be read below:
Parent View
You can now share your views on our school via Ofsted's Parent View website. By sharing your views, Ofsted hopes you'll be helping the school to improve. You will also be able to see what other parents have said about us.