Introduction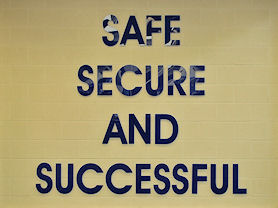 Our mission is proudly displayed in school.
Blakesley Hall is a popular school which was built in 1959 between Richmond Road and Blakesley Road and is bounded by parkland and domestic gardens.
The school is named after the nearby Tudor house with which the school maintains close links.
The school has 21 classrooms and a wide range of modern facilities. There are two large halls which are used for assemblies, physical education and also school lunches. These are cooked in the school's own kitchen and children have a choice of healthy meals each day.
Blakesley Hall is a three form entry school built on two floors. It caters for over 600 boys and girls aged between 4 and 11 years.
The youngest children are on the ground floor of the main building with their own play area and toilets close by.
The school can admit up to 60 Reception children each year. Each Reception class has a qualified teaching assistant who works closely with the class teacher.
Blakesley Hall Primary School is a community of learners. Our mission is to enable every child to be: safe, secure and successful.
Safe: We take all reasonable steps to ensure the physical safety of all members of the school community.
Secure: Our curriculum and our pastoral support programme are designed to make out school an emotionally supportive environment for all.
Successful: We work together so that all members of the school Community can achieve their individual academic potential.
School Opening Hours
Monday to Friday
| Time | Reception | Key Stage 1 | KS2 Lower | KS2 Upper |
| --- | --- | --- | --- | --- |
| Morning School Starts | 8.45am | 8.45am | 8.45am | 8.45am |
| Lunch Begins | 11.45am | 11.45am | 12.15pm | 12.45pm |
| Afternoon School Starts | 12.45pm | 12.45pm | 1.15pm | 1.45pm |
| School Day Ends | 3.20pm | 3.20pm | 3.20pm | 3.20pm |
Children in Reception and Key Stage 1 have a 15 minute break in the morning and afternoon.
Children in Key Stage 2 have a 15 minute break in the morning only.