Our Pupils
The children at Blakesley can get involved with various 'councils' and other groups to encourage them to get involved with non-class based school activities and to get used to taking on additional responsibilities.
Head Girls and Boys
Our Head Girls and Boys have many important responsibilities and set a great example to all of our pupils.
School Council
The School Council at Blakesley Hall Primary School have lots of jobs in school such as:
Tuck-shop duty
Organising Events such as Comic Relief
Monitoring Dinner times and break times rules in the playground
Organising Fun Day activities.
The School Council are lead by Year 6 representatives, who are chosen by their peers. They then interview and select pupils from other year groups to sit on the council. They do Comic Relief and Christmas assemblies and take the lead on improvements in response to children who are unhappy with aspects of school life. The job of a School council only lasts for one year. There might be an opportunity for YOUR child to become a School Council Representative.
Eco-Council
Our Eco-Council oversees the schools' activities which are about looking after the environment and our community including recycling, Forest School development, wildlife care, our school allotment, 'Green Day' and participation in several national projects (ie. BBC's Breathing Places).
The staff Environment Team organise the Council which is made up of pupils from Years 2 to 5 - and includes one boy and one girl from each year.
| | | |
| --- | --- | --- |
| Allotment - a project in progress. | | Recycling paper in school. |
House Captains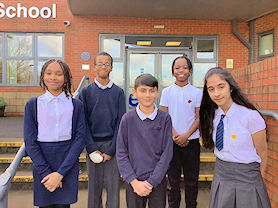 The House Captains and Vice-Captains help organizing house events. These include sports day, fund raising relay and of course the house points for the house trophy.
These children lead their school houses and represent them in assemblies and sporting events.
Prefects
Our school prefects are always here to help. They can point you in the right direction around the school, support you if you're struggling and are always on hand at lunchtime to help on the playground, or in the hall.