Ofsted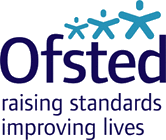 Our school was inspected by Ofsted in February 2014 and the full report can be below.
Once again we were judged to be a good school, with some outstanding features.
Here are some quotes from the report:
Pupils have excellent attitudes towards learning and their behaviour is at least good in and around the school.
The headteacher provides outstanding leadership for the school and this has had an excellent impact on ensuring good and rapidly improving teaching and pupils' better achievement.
All staff in the school share a clear commitment to raising standards and improving teaching and learning.
The governing body's work is very well focused on school improvement.
Disabled pupils and those who have special educational needs receive effective extra help.
Relationships between adults and pupils are very strong.
Pupils from the many cultures and faiths in the school talk positively about how well they all get on.
The full report can be read below:
Parent View
You can now share your views on our school via Ofsted's Parent View website. By sharing your views, Ofsted hopes you'll be helping the school to improve. You will also be able to see what other parents have said about us.