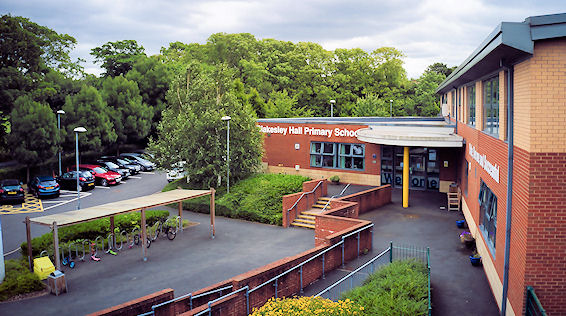 SCHOOL IS NOW CLOSED FOR THE SUMMER HOLIDAYS
We were happy with how the the Ofsted inspection went last week and with the findings of the team of four inspectors. The report should be published before the end of the term at which point we will be sharing it with our school community. Thank you to the many parents who contributed positively on Wednesday
SCHOOL WILL RE-OPEN FOR PUPILS ON WEDNESDAY 5TH SEPTEMBER AT 8.45AM
As part of Sport Relief week, the Year 6 children took part in a football match against the teachers on 22nd March. The Year 6 children fought valiantly but couldn't quite stop the silky moves of the teachers who were ultimately victorious! Special mention to Haroon Abdullah for his 'tekkers' in 'skilling-up' Mr Walmsley by 'megging' him on countless occasions, and Aliyah Scott for battling through after having the ball kicked in her face FIVE times (accidentally of course)! Fun was had by all and money was raised for Sport Relief.
RECENT FUNDRAISING AT SCHOOL
The recent Christmas Fair raised £1,263.00 for the school fund. Well done to everyone that donated
On Friday 29th September school took part in the MacMillan Coffee morning and raised £318.23 for this charity
School Council sold ice lollies and ice creams - all monies raised went into school fund
Year 6 - did a cake sale and a staff car wash - all monies raised went towards school fund and other charities
Year 5 sponsored run for Syrian Refugees - organised by the school children
On 5th July school had an inflatable sport activity in school, all monies raised went towards before and after school sporting provision
Year 2 sponsored fun run - money raised will be spent on school PE equipment
Welcome to the website of Blakesley Hall Primary School.
We hope that you will find our web both interesting and entertaining.
We always like to hear from our visitors and friends. To let us know what you think of our website, simply sign our Guestbook and add your comment.
Keep track of what's going on around school by reading our Newsletters and Diary Dates pages. Why not bookmark us?
Thank you for visiting our website, and please come back and see us again soon!
New Things on our Web
Our web was last updated on 29 July, 2018