Event: Blakesley Win the Mike Scott Trophy
March 2009
The first game we had was fairly easy. However, the team could not seem to score! We had lots of shots some went just over, just wide and some that got saved by the keeper.
But in the second half we finally broke the deadlock with Foday scoring. We carried on dominating and we scored, once again it was Foday. Towards the end of the match we scored our third this time it was Ethan. The final score was 3-0 and we were through to the final!
In the final match it was not as easy however we were still the better team. This match was different to the last match. In the last match our goalkeeper Brad had nothing to do but in this a match he had a little bit more to do.
Fortunately it was our team that went ahead it was Ali that scored the goal. As the match went on both teams played well but none of the teams could get a goal and the match ended 1-0. We won the cup!
In those two games everyone in the team was important!
Brad did really good in goal and never conceded,
Curtis and Ehsaan were solid at the back,
Ethan and Foday controlled the games from midfield,
Ali and Amauri worked really hard upfront and
Mr Mason was a great manager! !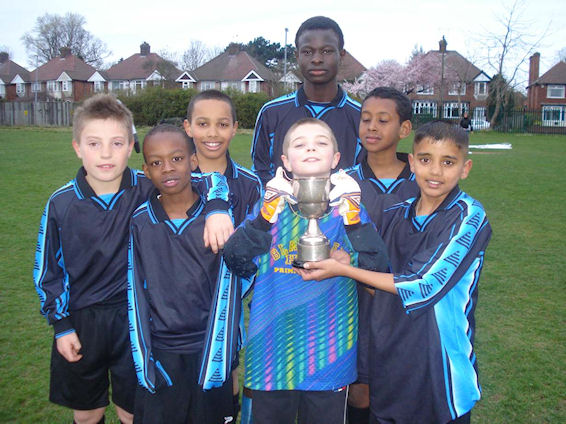 Our winning Football Team, and Manager Mr Mason.