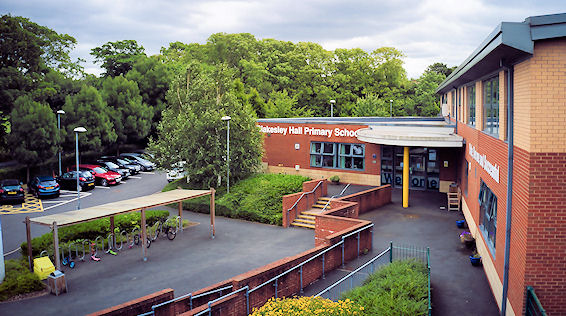 WHAT IS HAPPENING WEEK OF 20TH MAY 2019
Monday 20th - Visit from the ambulance service to Jigsaws and Reception classes and 2pm KS1 Family Learning in the small hall
Wednesday 22nd - 2pm KS2 Family Learning in the small hall
Thursday 23rd - 9.15am ESOL classes for parents in the small halll
Friday 24th - Dinosaur dome for Year 2 all morning. SCHOOL FINISHES AT 12.45PM FOR THE WHITSUN HOLIDAYS
RECENT FUNDRAISING AT SCHOOL
Friday 16th November 2018 - School raised £509.33 for Children in Need
Autumn 2018 - The school disco's raised £403.60 and The Big Floss raised £134.06 - all money raised will be going towards repairing our playground.
On September 27th school took part in the MacMillans Coffee morning and raised £341.37 for this charity
Welcome to the website of Blakesley Hall Primary School.
We hope that you will find our web both interesting and entertaining.
We always like to hear from our visitors and friends. To let us know what you think of our website, simply sign our Guestbook and add your comment.
Keep track of what's going on around school by reading our Newsletters and Diary Dates pages. Why not bookmark us?
Thank you for visiting our website, and please come back and see us again soon!
New Things on our Web
09 May 19: Summer Timetables on our year group pages.
03 May 19: Email Communication Policy.
03 May 19: Attendance Report for Spring Term 2 2019.
16 Apr 19: School Term Dates for 2019/20.
Our web was last updated on 9 May, 2019